Contributor: ASIA OGNIBENE with Together New Orleans
Across the Southeast, hundreds of thousands of people are without power in the aftermath of Hurricane Idalia – a situation all too familiar to us. As the storm made landfall in Florida, something incredible was happening in New Orleans. Dozens of dedicated Together New Orleans volunteers were engaged in a disaster simulation at the Broadmoor Community Church – the very first Community Lighthouse that opened this spring. 
We held the training Wednesday during the church's regularly scheduled food pantry to simulate an active scenario and test the system. Volunteers were told the details of the disaster scenario and given roles to play, and the simulation provided many valuable "lessons learned" that will inform the work of Lighthouses throughout the city and state.  
Together New Orleans has opened four Lighthouses and aims to complete a dozen more as part of an initial pilot phase. In total, we'll install a network of 86 across the city so that every resident lives within a 15-minute walk of one. It's not stopping there! Together Louisiana's regional organizations are expanding Lighthouses throughout the state. North Louisiana Interfaith is piloting two and plans to create a network of 20 in Caddo Parish. And just last week, Together Baton Rouge secured funding for its first three and is already working on plans for the next three. Other regions are also working to launch pilot programs in the near term.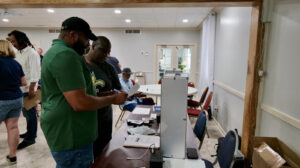 This week of record-breaking heat also marked the anniversaries of Hurricanes Katrina and Ida – somber reminders of the significance of our work. As we continue to open more and more Lighthouses, we're empowering our communities to weather the storms that will come our way and to better do what we've always done: help one another.
Thanks to everyone who volunteered for this week's training. If you'd like to be part of a volunteer rapid response team, email asia@togetherla.org.
—