BY JEANETTE LENOIR
Listening to Ethel Ennis sing songs like Have You Forgotten? and My Foolish Heart brings back nostalgia and memories of days long gone. These days one would be hard pressed to find musicians without twerking background dancers or some other gimmick. However, they do exist. And, Ennis's life is a wonderful example of an accomplished artist who was able to share her talent with the world without the pressures of fame and "making it" in Hollywood. And, Ennis didn't just "make it" … she made it proudly and successfully in her native home of Baltimore. Granted, the city isn't called "Charm City" or "The Greatest City in America" for nothing. B'More is a mecca for Jazz musicians and singers like Ennis, still. Ennis passed away on February 17, 2019. She was 86.
It's well worth it to take a stroll through YouTube and listen to her beautiful voice serenade you.  Start with Have you forgotten?
Biography from Wayback Machine:
Baltimore native Ethel Ennis is a national treasure. Critics have hailed her as "the most accomplished singer performing today." That stature was earned by her magnificent voice, her brilliant compositions, her joyful performances and her collaboration with the finest musicians. Ethel Ennis first won national recognition for her recording "Lullaby for Losers" in 1955. In 1958, she was selected by Benny Goodman as the female vocalist for his all-star band. Later, she was chosen as a featured singer on the Arthur Godfrey Show. After performing at the 1964 Newport Jazz Festival with Billy Taylor, Cozy Cole, and Slam Stewart, she appeared with Duke Ellington and his Orchestra on television's "Bell Telephone Hour." She followed those amazing achievements by wowing them at the Monterey Jazz Festival in duets with Joe Williams. She returned to her hometown to perform in concerts with the Count Basie Band and the Baltimore Symphony Orchestra. During that same period, she shared the bill with Cab Calloway at Harlem's Apollo Theater and played supper clubs and concert halls all over the country.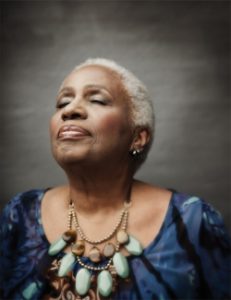 In the seventies, she founded the practice of singing the National Anthem a capella at Richard Nixon's 1973 presidential inauguration. She performed at the White House for Jimmy Carter as well. During the period, she became Baltimore's cultural ambassador, singing Chinese folk songs in Baltimore's sister city of Xiamen, China as well as performing in Rotterdam, Germany. In the 1980's, Ethel opened her own music club, Ethel's Place with her husband, writer Earl Arnett. They presented the world's greatest jazz musicians and broadcast live concerts to national audiences. They sold the club in 1988, each returning full-time to their artistic pursuits. Frank Sinatra once described her as, "my kind of singer." A Downbeat reviewer once said of Ethel, "her voice runs deep, exuding the personality of a sage who has lived many lives." She is the great sage of jazz and if you can find any one of her two dozen records and singles, you will have added a national treasure to your collection.
In her own words on her interracial marriage…